Published Date: 14 November 2023
UNDP, MAS and Partners Launch Universal Trusted Credentials Initiative for MSME Financing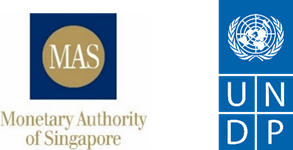 Singapore, 14 November 2023… The United Nations Development Programme (UNDP), the Monetary Authority of Singapore (MAS), Bank of Ghana (BoG), Global Legal Entity Identifier Foundation (GLEIF) and the SME Finance ForumCollectively termed UNDP, MAS and partners. announced today the launch of an open global initiative – Universal Trusted Credentials (UTC) – to improve micro, small and medium-sized enterprises (MSMEs) access to financing. The UNDP has developed a whitepaper on the UTC, available for download here .

2 MSMEs account for up to 90% of businesses and 70% of employment worldwideILO, https://www.ilo.org/infostories/en-GB/Stories/Employment/SMEs#power-of-small . Globally, they still face significant challenges in accessing affordable finance to grow their businessesThe World Bank estimates that MSMEs are facing a financing gap of US$5.2 trillion every year, despite receiving increased attention. World Bank, IFC "SME Finance", https://www.worldbank.org/en/topic/smefinance . These challenges are compounded when MSMEs pursue cross border opportunities which require them to navigate different regulatory frameworks, financial systems, and lending norms.

3 The UTC initiative proposes a framework for the creation of trusted credentials that characterise an MSME's financing worthiness based on traditional and alternative data sets:
Source Data: Information about an entity may be verified from a variety of sources such as utility providers, trade platforms, national registry, to include data on trade flows, and trade concentrations of buyers and suppliers, active and timely payment of utilities and telco bills.
Derived Data: Coupled with source data, derived data or additional indicators like an MSME's willingness to upskill itself in financial literary and an MSME's past repayment behaviour, help to derive an MSME's "intent to pay" track record. This gives financial institutions greater confidence that an MSME can be trusted to pay back the small value loans provided.
4 The UTC initiative will focus on building the capacity of MSMEs and improving access to data and financing through collaborations in key emerging markets.
Trusted Data Providers: UNDP, MAS and partners will extend their existing capacity building efforts to develop an ecosystem of suitable data source providers that would contribute towards the creation of alternative data sets for UTC. A steering committee of central banks, financial institutions and multilateral agencies will be explored to identify suitable trusted data sources and vet international UTC issuers.
Pilot Testing: UNDP, MAS and partners will enhance the UTC platform, presently tested in Ghana, to cater for a wider set of alternative data. Further work will be conducted with central banks and financial institutions in other emerging markets to fine-tune and test the use of UTCs across borders.
Standards Development: UNDP, MAS and partners will collaborate with international partners including the private sector and the public sector (see Annex A for the full list), to develop a common UTC standard to ensure interoperability internationally and to cater for the evolving needs of the industry.
5 Mr Marcos Neto, Assistant Secretary General and Director, Bureau of Policy and Programme Support, said, "The Universal Trusted Credentials initiative has the potential to revolutionise how we tackle the global MSME financing gap in a way that empowers SMEs to support business growth and their green transition, encourages financial institutions to reach to new clients, leaves no one behind, and supports a greener, more sustainable economy. This is a key priority for UNDP, which already works with thousands of MSMEs across the world on digitalisation, access to financing and integration of sustainability practices, and recognises the role that automated, data-driven digital solutions could play in driving scale."
6 Mr Sopnendu Mohanty, Chief FinTech Officer, MAS, said, "The UTC represents a game-changing opportunity to augment the traditional collateral or asset-backed financing that almost all MSMEs face, towards a holistic approach that includes self-owned non-financial and financial credentials that each MSME should possess. We are excited to join hands with the UNDP, central banks, financial institutions, FinTechs and trusted national data partners in empowering each MSME with a self-owned standardised set of UTC credentials. This is an important opportunity to revolutionise the way MSMEs can access essential financing and financial services, particularly in emerging markets. With a new global consensus around the UTC, there can be many more innovative solutions which will supercharge impact financing, embedded FinTech, digital banking and cross-border growth for many economies."



***
Published Date: 24 November 2023

The eighth edition of the Singapore FinTech Festival came to a close on 17 November 2023, drawing a record 66,000 participants, up from 62,000 attendees in 2022.

Published Date: 17 November 2023

MAS and Bank Negara Malaysia have jointly launched the real-time payment systems linkage between Singapore's PayNow and Malaysia's DuitNow.

Published Date: 17 November 2023

MAS and Bank Indonesia have jointly launched the cross-border quick response payment linkage between Indonesia and Singapore.