Depositing of Currency
Members of the public and businesses may deposit their currency notes and coins with banks in any of the following ways:
Over the counter at bank branches.
Through the banks' cash deposit machines.
Coins may also be deposited through MAS' appointed Circulation Coins Operator and Manager (CCOM), Certis CISCO Secure Logistics Pte Ltd (CSL) . Find out where you can deposit your coins with CSL .
Note: To expedite the verification process, it is recommended that you pack your coins according to their series and denominations. Find out more about Singapore circulation coin series and denominations. 
CSL's self-service coin deposit machines accept only Second (except 1-cent) and Third Series circulation coins. You may deposit the other denominations such as First Series coins and Second Series 1-cent coins, Singapore commemorative coins and Brunei coins over the counter. 
If you have a large quantity of coins to deposit, it is recommended that you do so at Certis CISCO's centre at Bedok. Please make an appointment with Certis CISCO prior to your visit so that someone will be able to assist and advise you on your arrival.
Coin Deposit Fees at Certis CISCO
There is free deposit for the following types of coins:
First Series coins.
Second Series 1-cent and 5-cent coins.
Third Series 5-cent coins.
Singapore commemorative and numismatic coins.
Brunei coins.
You will have to pay S$3.50 per 1,000 pieces (before GST)* for the following types of coins:
Second Series coins (10-cent, 20-cent, 50-cent and 1-dollar).
Third Series coins (10-cent, 20-cent, 50-cent and 1-dollar).
*From 1 January 2023 to 31 December 2023, MAS will absorb the 1% increase in GST for standard rated fees (which will be reflected in the total fees before GST) to help cushion the impact of GST increase.
Processing of Currency
After authenticating and checking their fitness for circulation, the banks will do either of the following:
Recirculate the currency notes and coins.
Return the currency notes and coins to MAS for processing which includes counting, authenticating and fitness sorting. All currency will be deposited to MAS by banks via their security couriers except:

$2 and $5 notes will be returned to MAS via CSL (MAS' appointed vendor to manage $2 and $5 notes).
Coins will be returned to MAS via CCOM.
Processed good currency notes and coins will then be repacked and stored for re-issuance to the banks.
Issuance of Currency
When banks require currency notes or coins to meet demand from the public and businesses, they will indent the required currency notes or coins from MAS. Banks will then distribute the currency to their respective branches or automated teller machines (ATMs) (for currency notes) to facilitate withdrawals by the public and businesses.
In general, new currency notes or coins are issued only when the stock of processed notes or coins has been completely issued. 
Notes and coins distribution and issuance cycle
Refer to the following infographics to find out how notes and coins are distributed and issued in Singapore. 
Notes Distribution Cycle
Coins Distribution Cycle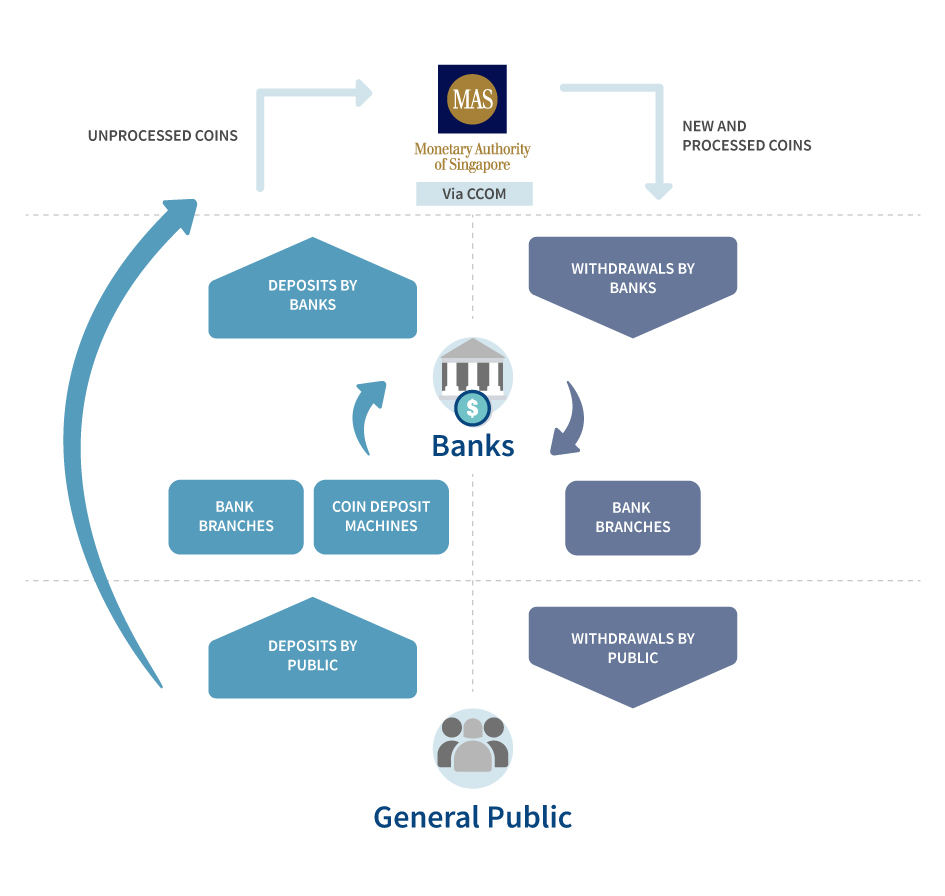 Note: MAS does not sell or issue to, or exchange new notes or coins with, the public. If you wish to have brand new notes or coins, contact a commercial bank in Singapore directly to check if they have any stock available.
Refer to
Redeeming Face Value for Current or Past Series Currency
 to find out what you can do with past series notes and coins.
Frequently Asked Questions