MAS has rolled out various initiatives to further its sustainability agenda and build a more sustainable organisation. Some of these initiatives will also support the meeting of the public sector sustainability targets which comes under the GreenGov.SG initiative.
All initiatives to further a sustainable organisation are tabled and discussed at the Green Finance Steering Committee (GFSC), which is chaired by MAS' Managing Director.


These initiatives include:
Greening MAS' buildings
Transportation
Procurement
Currency operations
Deployment of solar panels.
The initiatives are aimed at meeting our emissions reduction targets and public sector sustainability targets. The latter comes under the GreenGov.SG initiative, where the public sector in Singapore leads the way to pursue sustainable development and supports the national sustainability agenda mapped out in the Singapore Green Plan 2030.
2030 environmental sustainability roadmap
MAS has launched a 2030 environmental sustainability roadmap that sets out our Scope 1, Scope 2 and Scope 3 (business air travel and outsourced currency operations) near-term emissions reduction targets and strategies.

Reduce Scope 2 Electricity Emissions
Measures to reduce electricity emissions in MAS' premises include:
Implement energy efficient, motion-controlled LED lightings in offices, staircases and carparks

Implement energy efficient central air-conditioning system with variable air and chilled water volume control

Implement solar photovoltaic systems

Set and maintain office air-conditioned temperature at 25°C

Use of occupancy based toilet lighting and ventilation

Use of destination-oriented lift system

Use of solar film for windows

Use of cool paint for water storage tanks

Operate heat recovery system for fresh air intake
Reduce Scope 3 Business Air Travel Emissions
New norms for international meetings present an opportunity to reduce the air travel of MAS staff. As air travel normalises, we can expect some meetings to return to an in-person format. Others may continue in an exclusively virtual setting, while some organisers may choose to adopt a hybrid meeting format.
MAS introduced a carbon budget framework and issued guidelines on delegation sizes to work towards meeting our target for business air travel emissions reduction.
Reduce Scope 3 Outsourced Currency Emissions
MAS' currency value chain comprises outsourced currency operations, in-house currency processing and waste incineration
The carbon emissions arising from in-house currency processing (e.g electricity consumption) and waste incineration are under MAS' Scope 2 and Scope 3 emissions respectively
. The outsourced currency operations include currency production, processing and transportation. MAS seeks to reduce the carbon footprint of our outsourced currency operations where we are able to, across the currency value chain – both upstream and downstream.
Currency Value Chain

How are outsourced currency emissions reduced? 
 Upstream

In currency production, we are working with our vendors to reduce carbon emissions from the production of our notes.

In currency-related procurement, MAS will incorporate environmental considerations in selecting future currency vendors.

All MAS' appointed printers and substrate suppliers are compliant with ISO14001 – the international standard for designing and implementing an environmental management system. Some of the initiatives undertaken by MAS' appointed printers to reduce carbon emissions include sourcing of renewable energy reducing waste during production and recycling of the waste.

MAS introduced polymer $2, $5 and $10 Portrait series notes since 2004 to improve the durability, quality and security of Singapore's currency notes. Polymer notes are known to last three to four times longer than paper notes, as they are more resistant to wear and tear. This helps to reduce waste arising from worn-out notes.

 Downstream

MAS will continue with our ongoing efforts to reduce the public demand for new notes, by encouraging the use of

Fit-for-Gifting notes (Fit notes)

 and

e-gifting

 during festive seasons including Lunar New Year (LNY), and promoting e-payments.
The environmental impact of new notes issuance will

reduce with the use of Fit notes for festive gifting

. This will pave the way for a sustainable future where MAS will no longer issue new notes for festive gifting.

E-payment platforms such as PayNow, FAST and SGQR are a convenient alternative to cash and cheques. By reducing the reliance on physical notes and cheques, we can help reduce the lifecycle carbon and environmental footprint from their production to eventual disposal.
Reduce waste
MAS will work towards the GreenGov.SG target of reducing our waste disposal by 30% (from 2022) by 2030.
MAS continues to actively encourage the three 'R's of reduce, reuse and recycle amongst staff, to minimise waste, conserve natural resources and reduce carbon emissions.
Develop a Culture of Sustainability
MAS recognises the importance of building a culture of sustainability and encourages staff to actively adopt sustainability-friendly practices through various campaigns and initiatives.
Our Sustainability Campaigns

Sustainability was a key theme in our 2022 annual staff seminar, One MAS Connect (OMC), where officers from various departments spoke about their work in sustainability and other ground-up activities in the organisation.

The MAS Recreation Club formed a Sustainability Committee to ground-up campaigns which aim to change the behaviours and attitudes of staff towards waste generation or resource usage in the office.

A sustainability sentiment survey as well as a focus group discussion was launched to understand staff's attitudes, willingness and perceptions towards building a culture of sustainability.

A group of staff volunteers also came together to organise MAS' inaugural environmental sustainability week, which included various talks, workshops, activities, and ground-up initiatives to encourage staff to reduce, re-use and recycle.

Our Sustainability Initiatives
MAS also implemented various initiatives to develop a culture of sustainability amongst staff. The initiatives and outcomes achieved are highlighted in the table below:
 Initiatives
 Outcomes Achieved
1. Minimise Plastic Waste
 
Removed provision of single-used bottled water in meeting

rooms at MAS' premises

 

Implemented clustered placement of office litter bins

Reduced the use of >3,000 plastic bottles per year.

 

 

Reduced the use of >16,000 liners per year

 2. Reduce Paper Usage
 

Introduced "Bring-Your-Cup" initiative and ceased dispensing

paper cups when staff use beverage vending machines

 

Raised awareness and encouraged staff to go digital and print

less

Reduced the use of >76,000 paper cups per year

 

Reduced paper usage by 18% or 2.3 tonnes (equivalent of 54 trees)
year-on-year, as of FY 2021

 3. Project Bring-Your-Own (BYO)
 
MAS provided staff with reusable utensils and lunchbox to pack

meals alongside a pledge to stop using single-use items

 1200 MAS staff have pledged and signed up for Project BYO
Managing physical and transition risk from climate change
Management of Physical Risks to MAS Building 
Physical risks could impact our buildings and property, for instance via flash floods or peak temperature. Physical risks can also impact companies which supply MAS with goods, services and raw materials, for instance, companies that supply our currency vendors with key raw materials used to produce currency notes.
MAS Building is located in a non-flood prone area. Several mitigating measures have been incorporated in the design of the building, including the placement of key critical equipment above ground level, having elevated building entrances, and implementing a water alert system in the basement carpark.
Management of Outsourced Currency Operations
MAS' outsourced currency operations are exposed to both physical and transition risks arising from climate change. MAS has taken measures to mitigate and reduce the risks.
Physical risk arising from extreme weather conditions may result in production or delivery delays. MAS maintains sufficient stock to meet notes and coins demand.
Transition risk may cause a rise in cost for MAS' outsourced currency operations. The open-tender procurement approach for currency replenishment allows us to award to a vendor that meets our requirements and provides the most value-for-money bid.
It is important for us to lower our carbon footprint and progressively introduce measures to reduce public demand for new currency notes and coins.
Factoring Green Procurement Requirements 
MAS has factored green requirements in our procurement.
We adopt the green procurement requirements from the GreenGov.SG framework and other initiatives such as National Environment Agency's (NEA) Guaranteed Energy Savings Performance contracting model. This contracting model optimises the chilled water system design and ensures efficient performance, comprehensive maintenance, and guaranteed savings over a typical period of five years.
Our green procurement requirements cover the following categories of goods and equipment, as outlined below.
Download Green Procurement Infographic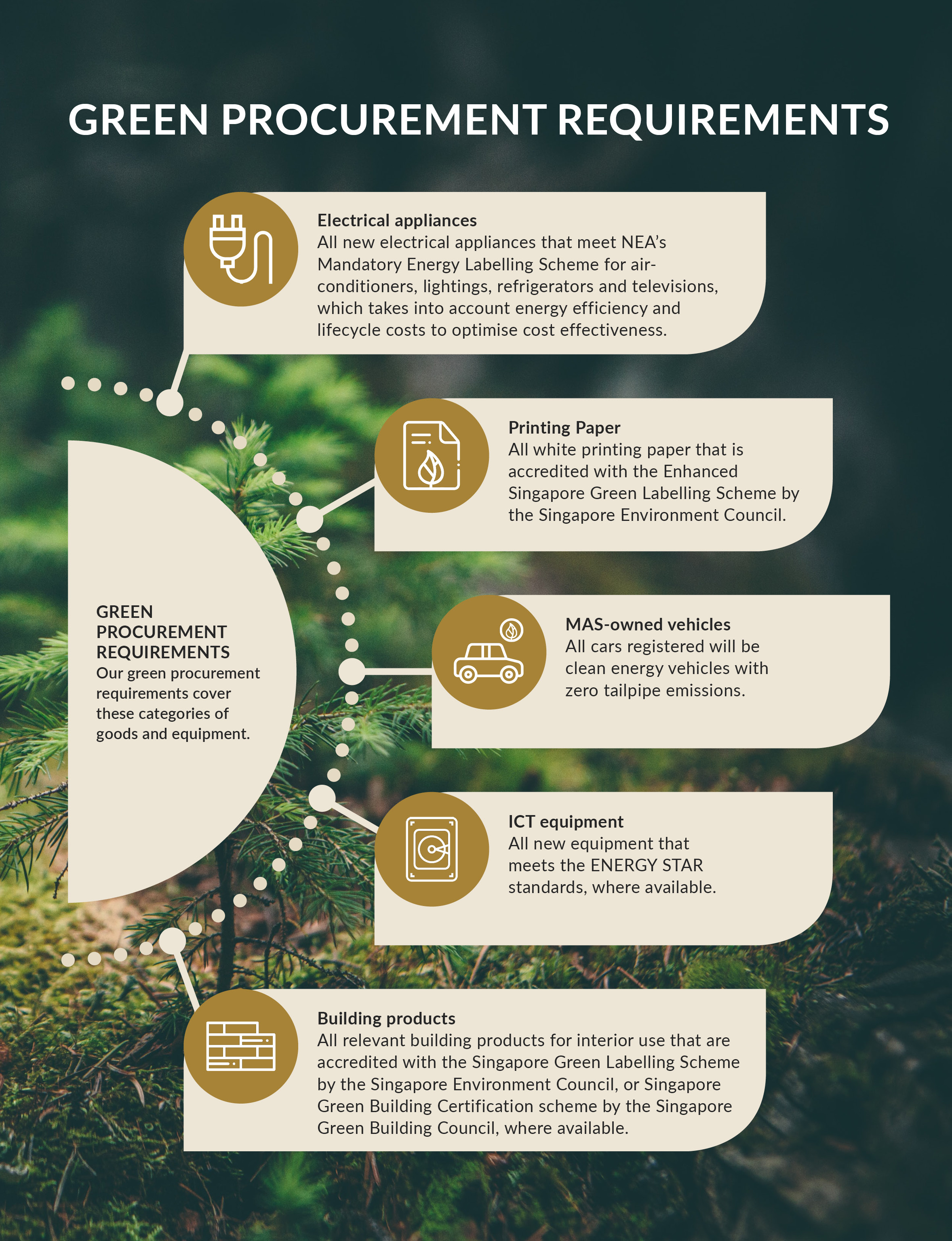 Environmental sustainability targets
MAS' near-term targets for FY2025 and FY2030

MAS' near-term targets for Scope 1, Scope 2 and Scope 3 emissions reduction are set based on the Science Based Targets initiative (SBTi) methodology, which has been independently validated by KPMG Services Pte Ltd.
MAS' Scope 1, Scope 2 and Scope 3 (business air travel) near-term targets are aligned with the well below 2°C science-based pathway, and Scope 3 (outsourced currency operations) near-term targets are aligned with the 2°C science-based pathway.

 Scope
 Targets
 Scope 1, Scope 2 and Scope 3 (Business Air Travel) emissions

By FY2025: Reduce by 17.5% 

By FY2030: Reduce by 30%

 Scope 3 (Outsourced Currency Operations) emission

By FY2025: Reduce by 10%

By FY2030: Reduce by 20%
The above targets use FY2018 (ending March 2019) as the base year.


GreenGov.SG's targets by 2030
Energy Utilisation Index: improve by 10% from 2018-2020 baseline
Water Efficiency Index: improve by 10% from 2018-2020 baseline
Waste Disposal Index: improve by 30% from 2022 baseline
Carbon footprint of MAS' corporate activities
MAS will continue to measure and report our corporate emissions using the Greenhouse Gas (GHG) Protocol. Overall, our FY2021 emissions declined 39% from FY2018 baseline, given the substantial decline in business air travel due to the COVID-19 pandemic. This is an aberration.

Electricity, waste and water usage profile
MAS will introduce new metrics to report our energy utilisation, water efficiency and waste disposal, in accordance with the GreenGov.SG targets. The metrics are computed as follows:
Energy Utilisation Index (EUI): annual energy consumption divided by the total Gross Floor Area
Water Efficiency Index (WEI): annual water consumption per day divided by the total number of occupants including visitors
Waste Disposal Index (WDI): total amount of waste disposed per day divided by the total number of occupants including visitors