Monographs/Information Papers
Published Date: 26 September 2023
Working Paper on Accelerating the Early Retirement of Coal-Fired Power Plants through Carbon Credits
The managed phase-out of coal-fired power plants (CFPPs) is critical for Asia's energy transition, and must take place alongside the development of clean energy sources. Notwithstanding existing efforts to finance the early retirement of CFPPs, the large and young fleet of CFPPs in Asia means that additional financing mechanisms are needed to improve the economic viability of such transactions and crowd in significant private capital at scale.

To address this, the Monetary Authority of Singapore (MAS), together with McKinsey & Company, launched a working paper which sets out how high-integrity carbon credits can be utilised as a complementary financing instrument to accelerate and scale the early retirement of CFPPs and identifies what is needed to develop a high-quality market for such credits.  Accompanying the paper is a template that provides detailed steps and sample tools for market participants to assess and execute such transactions. This includes a cashflow model to compute the economic gap that could potentially be covered by transition credits, and a list of standardised documents required to execute such a transaction. You may also refer to the infographic below for a summary of the key findings of the paper.

MAS invites interested parties to join a coalition of partners to further validate this transaction approach, and identify suitable CFPPs to pilot integrating transition credits into the early retirement of CFPPs. Parties interested to be part of the coalition or have potential pilot project are invited to write in to transition_credits@mas.gov.sg . 
Download Accompanying Documents
View Infographic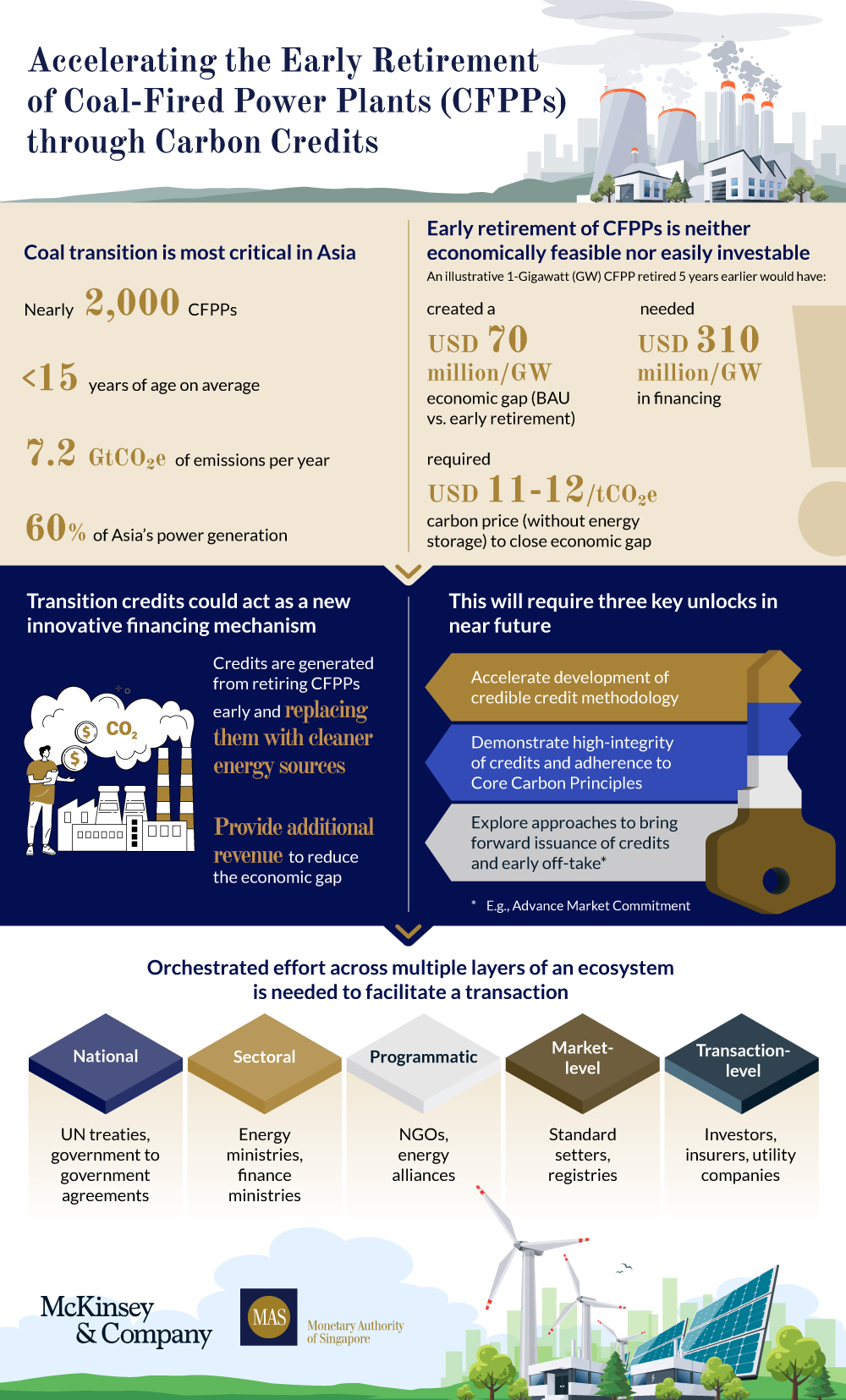 Monographs/Information Papers

Published Date: 16 November 2023

Orchid Blueprint sets out the technology and infrastructure building blocks that would be required to facilitate digital money transactions in the future. The blueprint incorporates learnings from the Project Orchid industry trials and industry engagements.

Monographs/Information Papers

Published Date: 15 November 2023

This whitepaper was jointly developed in collaboration with the Financial Industry, FinTechs and Industry Groups. It proposes a common model for linking digital asset networks implemented on diverse ledger technologies and describes common archetypes for the issuance, distribution and transfer of digital assets and...

Monographs/Information Papers

Published Date: 31 October 2023

This report presents proposals from a comprehensive feasibility study on the potential for the introduction of SGQR+ as Singapore's future interoperable payments infrastructure. The study was conducted by the EY organisation, and Singapore's key payment network operator, Banking Computer Services (BCS), with the support of MAS. The study's key areas of focus were to determine the readiness of merchants and payment providers to adopt interoperable QR payments, and the benefits of enabling seamless and secure cross-platform QR payment transactions.